Hospice in Nursing Home/Facility
OIG Publications on Hospice Care Four Part OIG Report on Hospice Care in the Nursing Home, September 2009:
Other OIG Publications on Hospice Care:
Fraud and Abuse in Nursing Home Arrangements with Hospices - Special Fraud Alert, March 1998.
NHPCO Member Resources
The Hospice Operations page offers a range of materials for NHPCO Members. These include: 
Questionable Practices by Hospices and Nursing Homes Under Health Care Fraud and Abuse Rules
Contracting with a nursing facility: Hospice and Nursing Home/Assisted Living Contracting Toolkit
Room & board pass through (PDF)
NHPCO Comments on SNF Benefit 
CMS Memo on Promising Practices for Implementing the Medicare Hospice Benefit for Nursing Home Resident
The Skilled Nursing Facility Prospective Payment System Fact Sheet: Medicare Learning Network
Medicare long term care state operations manual
Life Safety Code
Centers for Medicare & Medicaid Services (CMS) and Occupational Safety & Health Administration (OSHA) links to Life Safety Code compliance requirements.  This compliance is necessary for inpatient facilities.
CMS's Life Safety Code Compliance
OSHA's Life Safety Code Compliance
Nursing Home End-of-Life Care: The Nursing Home/Hospice Partnership
Successful collaborations are partnerships where care planning, coordination and provision are performed in care environments where:
Mutual respect dominates;
Providers routinely share knowledge; and
Policies and procedures clarify the roles of each collaborating party; but,
Much unwritten, and importantly, hospice presence, consistency and communication are key – a customer service approach facilitates success.
Partnership Resources:
This web content was published by the Center for Gerontology and Health Care Research at the Brown Medical School. The project was funded by a grant from the Robert Wood Johnson Foundation, Princeton, NJ. Project staff:
Susan C. Miller, Ph.D. Principal Investigator Center for Gerontology and Health Care Research BrownUniversity, Box G-ST Providence, RI  02912 Ph: 401/863-9216 Susan_Miller@Brown.edu
Related NHPCO Publications of Interest
Operational Guidance: Hospice and Assisted Living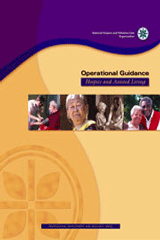 Ethical Challenges in Health Care