Managing Conflict in the Workplace
March 8 – April 5, 2021 (4 weeks)
CE/CME Credit Available: Nurse
Module Description
The ability to manage conflict in the workplace is a key skill for hospice managers. In this Level II module, you will learn about the nature and styles of conflict, skills needed to address conflict and effective strategies for managing it. Conflict is part of human nature, and because each of us brings unique values, goals, beliefs, ideas and needs to our work, conflict is inevitable. It is these differences in who we are and how we see things that define the strength of the interdisciplinary organization, and the reason that teams bring such a wealth of resources to bear in working with patients and families. These strengths, however, can become challenges and weaknesses if conflict is not understood, addressed and managed effectively. Managers help employees improve their abilities to function more effectively in team environments when they understand the nature of conflict and how to manage it in the workplace.
Module Objectives
Upon completion of this module, participants will be able to:
Discuss the nature of conflict and describe ways in which conflict impacts the workplace;
Discuss individual conflict styles and describe the role of power;
Identify productive and unproductive approaches to coping with conflict in the hospice workplace;
Consider and practice approaches to solving conflict in the workplace;
Demonstrate specific strategies that can be used to effectively manage workplace conflict.
Module Structure
The module will be instructor-facilitated and will be conducted online over a period of four weeks. During this time you will be asked to read online articles, engage in problem-solving, participate in peer review, and take part in online discussions. You can expect to spend 2 – 4 hours per week in these activities.Participants will determine their own schedules for completing the course work; online learning does not require that you be in a classroom at a set time, which is a perfect arrangement for busy hospice managers! Completion of the module does require, however, that you participate in weekly assignments and post them by designated dates.
Faculty
Patricia A. Goodwin, ACSW, LCSW, ACHP-SW.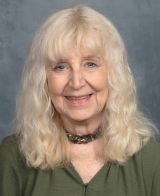 Patricia Goodwin has over 30 years of experience as a social worker in the health care field, including hospitals, long term care facilities, home health and hospice.  She has provided direct service, supervised other social workers, coached the interdisciplinary team in assessment and problem solving, and has experience in promoting patient/family satisfaction through her positions as a patient representative and service improvement project manager.
As an advocate for ongoing education, Pat served for three years on the Florida Hospice and Palliative Care Association's annual forum planning committee and is a member of NHPCO's Professional Education Committee. While co-chairing a hospital ethics committee, she received extensive training in clinical ethics through the University of Pittsburgh Consortium Ethics Program; she recently participated in leadership training through the Disney Institute.  Her social work degrees are from the University of Michigan.
Pat has a special interest in the psychosocial/spiritual dimensions of end of life care, clinical and organizational ethics and leadership development. In addition to talking to community groups on end of life topics, she has given professional presentations and workshops at the local and state level as well as nationally for NHPCO.
Pat recently relocated to Tallahassee, Florida, to be near family and joyfully participate in the care of her young granddaughter.
Module Requirements
Please note: if you have taken prior online MDP courses, the course completion requirements have changed. For successful completion of the module,  all participants must now complete all forums with a minimum grade for each forum of 80% or higher.  In addition, all participants must complete the Course Assessment (exam) with a minimum passing grade of 80% and complete the course evaluation.  A Certificate of Course Completion towards the Level II Designation of the Hospice Manager Development Program is then awarded along with CEs for nurses who have requested this in advance.  If you have any questions, please contact the course faculty for clarification.
Continuing Education
Continuing education credit is available for nurses and social workers who complete this module and pay required fees (see Module Fees) for continuing education.

Nurse: NHPCO is accredited as a provider of continuing nursing education by the American Nurses Credentialing Center's Commission on Accreditation.
NHPCO designates this activity for a maximum of 8 contact hours.  Nurses should claim only the contact hours commensurate with the extent of their participation in the activity. Accredited status by ANCC refers only to continuing nursing education and does not imply endorsement of any commercial product discussed in conjunction with this activity.
Module Fees
The module fee is $95 for members and $190 for non-members. There is an additional $25 fee for nurses requesting continuing education contact hours. Note: If you are requesting continuing education, the $25 fee must be paid during registration ($95 + $25).
Late Registration Information
Please note: Due to administrative constraints, if you are registering less than 2 business days prior to the module start date, there is a late fee of $25. Late registrations are processed only over the phone; call NHPCO's Solutions Center   at 800/646-6460. Please have credit card information ready for phone registrations.
Registration Cancellation Policy
All cancellation requests must be submitted in writing to conferences@nhpco.org. A $25 processing fee will apply to all cancellations. Cancellations made on the day the module starts or afterward are not eligible for a refund.