Public Reporting (Care Compare)
Public reporting in 2022 and beyond
The next data refresh to Care Compare = February 2022.

Quarters of data will include Q3 2020, Q4 2020, Q1 2021,

CMS will publicly report the most recent available 8 quarters of CAHPS data starting with the February 2022 refresh through the May 2023 refresh on Care Compare.
In each refresh after February 2022, CMS will report one more post-exemption quarter of data and one fewer pre-exemption quarter of data until they reach eight quarters of post-exemption data in May of 2023.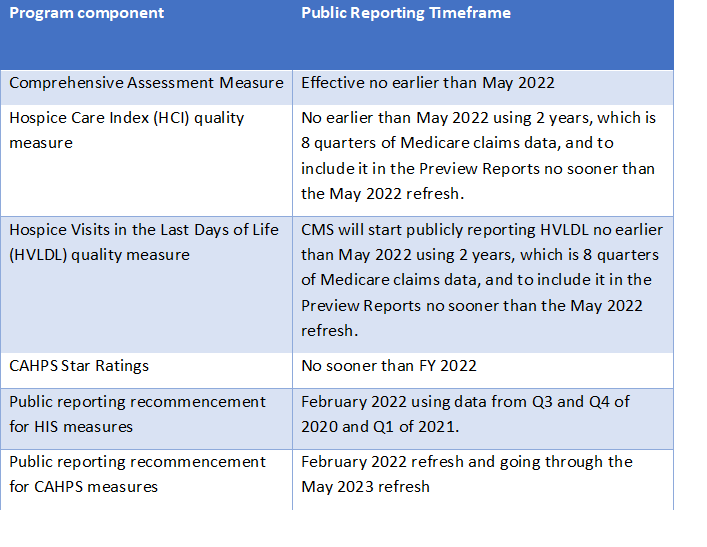 Hospice Data Displayed on Medicare Compare
Care Compare displays the following information per hospice provider certification number:
HIS measure and Hospice and Palliative Care Composite Process Measure Comprehensive Assessment at Admission scores (reporting of this composite score ends in 2022)
Comprehensive Assessment Measure composite score (reporting of this composite score begins in no earlier than May 2022)
Claim-based measures

Hospice Visits in the Last Days of Life (HVLDL) measure (no earlier than May 2022)
Hospice Care Index (HCI) measure (no earlier than May 2022)

CAHPS Measure scores
CAHPS Star ratings (2022)
Public Use File Data (PUF) which includes

Conditions treated
Locations of care
Levels of care
Ownership type
Date of Medicare certification
Hospice providers can access Medicare data sets for national comparison data in the Provide Data Catalog on CMS.GOV.
Calculating Claim-based Measure Scores
CMS will:

Extract claims data to calculate claims-based measures at least 90 days after the last discharge date in the applicable period, which they will use for quality measure calculations and public reporting on care compare.
Utilize 2 calendar years of data which is 8 quarters of Medicare claims data.
Update measure scores annually in the fall in the QM Report as they will in the Preview Report and on Care Compare and the Provider Data Catalogue.
Refresh claims-based measure scores on Care Compare, in preview reports, and in the confidential CASPER Agency-Level Quality Measure reports each year. Annual updates align with most claims-based measures across post-acute care settings.
CMS Resource:
Fast Facts About Provider Preview Reports
Preview reports of HIS and CAHPS data are available to hospice providers before every quarterly Care Compare refresh.

Claim-based measure preview reports will be available beginning in 2022.

Hospices will have 30 days to preview their reports beginning on the date that CMS makes the reports available. Should the hospice provider believe the denominator or other quality metric to be inaccurate, a provider may request a CMS review of the calculations contained within the HIS Provider Preview Report.  Link to Request for CMS Review of HIS Data information
HIS Provider Preview Reports are accessible via the Certification and Survey Provider Enhanced Reports (CASPER) application, which is accessible from a Hospice's "Welcome to the CMS QIES Systems for Providers" page.
Providers will not be able to access their preview reports after 60 days from the report release date. CMS encourages providers to download and save their Hospice Provider Preview Reports for future reference, as they will no longer be available in CASPER after this 60-day period.
Data Correction
Providers need to submit all Hospice Item Set (HIS) modification or inactivation records prior to the 4.5-month data correction deadline for public reporting for the modifications to be reflected in the corresponding HIS Provider Preview Report and public display, located on Care Compare.  See CMS's Data Correction Deadline Fact Sheet February 2020 (PDF) for more information.
Hospice Data Timeframes on Medicare Compare
Data on Medicare Compare is refreshed quarterly in February, May, August, and November
HIS data is displayed using 12 rolling months of data collection
Claim-based measure data is displayed using 2 calendar years of data which is 8 quarters of Medicare claims data
CAHPS data is displayed using based 8 rolling quarters
PUF data is two years old when posted
Suppression of Public Reporting Data
Hospices with a QM denominator size of fewer than 20 patient stays (based on 12 rolling months of data) will not have the QM score publicly displayed
Public Reporting: Key Dates for Providers
See CMS webpage which includes information about data submission and correction deadlines and specific data reporting periods.
CMS Resources: