2020 Virtual Interdisciplinary Conference
You're invited to help make (NHPCO) history!
NHPCO is offering this new, three-week, virtual event which will provide high-quality education, innovative topics, and networking completely online. Approximately 60-70 hours of CE/CME will be offered virtually through live-streaming and on-demand content.
The Virtual Interdisciplinary Conference is the premiere conference for hospice and palliative care teams and individuals, and will bring our community together safely to learn, collaborate, and prepare for a future that is both challenging and full of opportunity.
This virtual event will combine live keynotes with an in-depth library of on demand sessions released weekly and much more:
7 Educational Tracks
60+ on demand sessions
Discussion opportunities with faculty
Virtually network with your peers
One-on-one office hours for regulatory and palliative care
60-70 hours CE/CME for nurses and physicians
Exhibit Hall
Town Hall on COVID 19 Pandemic
Happy Hours
Live Podcasts
Streaming Music Event
And much more!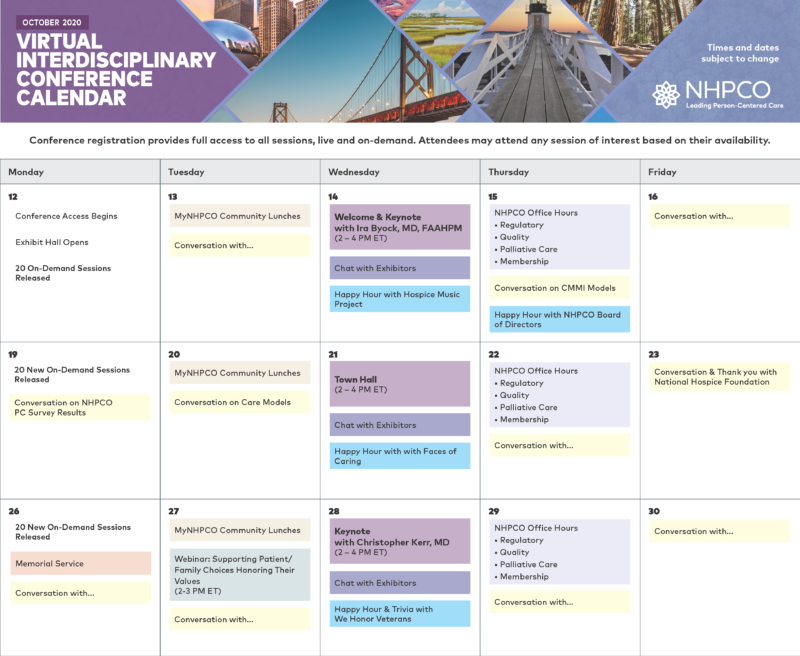 You'll learn strategies, skills, and (virtually) walk away with practical takeaways to empower the work you're doing today while preparing for the demands of tomorrow.
Join hospice and palliative professionals from across the country to learn, collaborate, and network.
Be a part of NHPCO's history as we come together for a new learning experience.
Opening Keynote
Ira Byock, MD, FAAHPM
Founder and Chief Medical Officer
The Institute For Human Caring
Learn More
Day Two Keynote
Christopher Kerr, MD
Chief Medical Officer & CEO
The Center for Hospice & Palliative Care
Learn More