2020 Virtual Interdisciplinary Conference
The Virtual Interdisciplinary Conference website is now live! If already registered, redirect your browser here: https://idc.nhpco.org/
Logins and passwords will be emailed by info@nhpco.org by 11 AM EST on Monday, October 12th. After that time, check spam/junk folders as logins may be filtered by some inboxes. For help with logins, contact NHPCO's Solutions Center at 800-646-6460 or solutions@nhpco.org . If registered after October 8, please allow 24 hours for logins to be active. 
Choose your own adventure…
This year's conference spans three weeks and combines live activities and on-demand education sessions on the topics that matter most right now…pick the activities that fit your schedule!
PLUS: On-demand sessions available until December 31.
The Interdisciplinary Conference is the premiere conference for hospice and palliative care teams and individuals, and will bring our community together safely to learn, collaborate, and prepare for a future that is both challenging and full of opportunity.
7 Educational Tracks
60+ On-demand Sessions (available until Dec. 31)
60+ hours CE/CME for Nurses & Physicians
Live Conversations & Networking Opportunities
Diversity, Inclusion & Equity Town Hall
One-on-One Regulatory, Palliative Care & Membership Consultations
Exhibit Hall
Happy Hours
Live Podcasts
Streaming Music Event
And much more – check out the live event calendar!
How does it work?
On-demand education sessions will be available starting October 12.  View as many sessions as your schedule allows until December 31, 2020. Block hours, not days. There is no need to block full days as you would for an in-person conference. Pick and choose the sessions and activities that interest, and fit within, your schedule.
VIDC Workbook
To help you plan your conference experience, participants registering by October 1 will receive a workbook in the mail. Each workbook will help you in navigating your schedule, building your calendar, working through sessions, and taking some mindful moments for yourself.
Live Keynotes | Every Wednesday | 2:00 – 4:00 PM ET
October 14 – Ira Byock, MD, FAAHPM
October 21 – Diversity, Inclusion & Equity Town Hall
October 28 – Christopher Kerr, MD
October 12 – 30
Come as you can to other live events such as happy hours, exhibitor networking opportunities, regulatory and quality office hours, MyNHPCO Community Lunches, and more. Choose the events that fit your schedule.
October 31 – December 31
Return as often as you can to view 60+ on-demand sessions.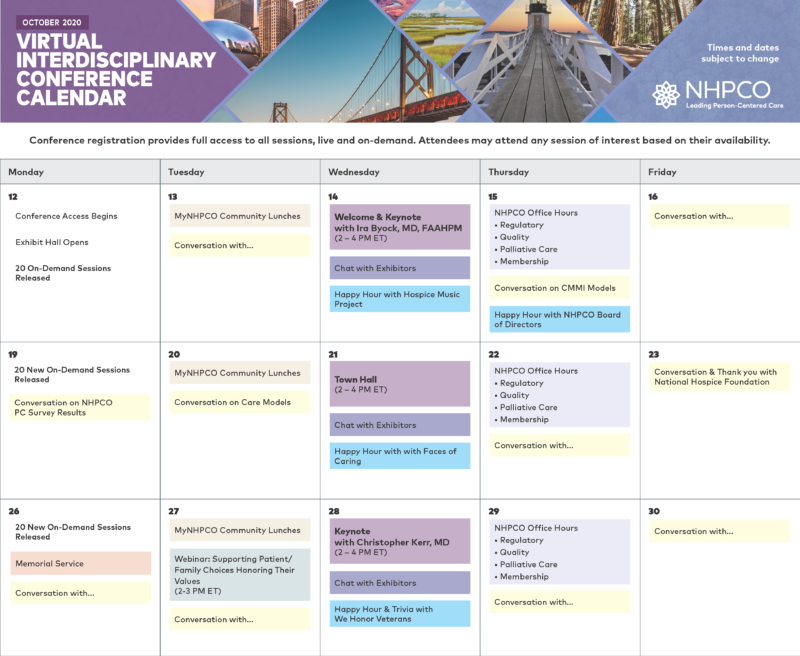 Learn strategies, skills, and (virtually) walk away with practical takeaways to empower the work you're doing today while preparing for the demands of tomorrow.
Join hospice and palliative care professionals from across the country to be a part of this exciting, new learning experience.
Opening Keynote
Ira Byock, MD, FAAHPM
Founder and Chief Medical Officer
The Institute For Human Caring
Learn More
Closing Keynote
Christopher Kerr, MD
Chief Medical Officer & CEO
Hospice & Palliative Care Buffalo, Inc.
Learn More