For Immediate Release:
March 8, 2021
Diversity & Inclusion In-service Included as Part of NHPCO's 2021 Leadership and Advocacy Conference
Let's Talk About Equity: A Diversity, Equity, and Inclusion Microlearning Module
(Alexandria, Va) – A study by McKinsey showed organizations that train on ethnic diversity show a 35 percent better than national average financial return. Diversity training is an important step in achieving that goal. Training helps employees become more aware of unconscious bias and other barriers to diversity and inclusion, and motivates positive behaviors and attitudes – essential for creating and maintaining a respectful, inclusive workplace.
That is why NHPCO has created an important training that will help make facilitating this important conversation much easier for leaders, managers, and teams.  All those who register for NHPCO's 2021 Leadership and Advocacy Conference will receive access to this special program and downloadable workbook, Let's Talk About Equity: A Diversity, Equity, and Inclusion Microlearning Module.
NHPCO has partnered with Nonprofit HR to bring you this training that is designed to be used as a constructive in-service with your entire team but can also be completed individually to ensure all team members can participate.
The training is led by Emily Holthaus, Managing Director of Diversity, Equity and Inclusion at Nonprofit HR. Click here to preview an introduction by Emily Holthaus.
As part of our strategic priorities, NHPCO is committed to access and inclusion. The Diversity Advisory Council has released a number of resources that address this important topic.  This helpful resource created for LAC21 participants will add to the available resources on diversity, equity and inclusion.
The LAC21 will be hosted virtually, March 22 – 26, 2021.  Participants will have access to Let's Talk About Equity: A Diversity, Equity, and Inclusion Microlearning Module beginning on March 22.  Those enrolled in LAC21 will have access to all on-demand conference content, including this special program through May 31, 2021.
Register for the 2021 Leadership and Advocacy Conference today.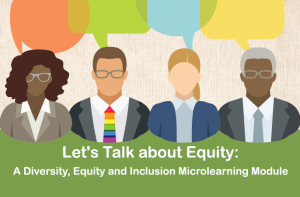 -###-
Contact:
Jon Radulovic
Communications
Ph: 571-412-3973