NHPCO Welcomes New VP of Finance
For Immediate Release
August 19, 2022 
Christopher Arnold Brings Health Care Association Experience to the Position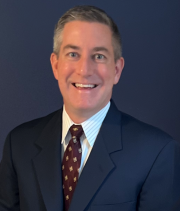 Alexandria, VA – The National Hospice and Palliative Care Organization (NHPCO) announced that Christopher Arnold has joined the NHPCO team as Vice President of Finance. Arnold brings to the position more than 25 years of experience in finance, accounting, operations, compliance, administration, and management. He has worked in leadership roles in health care association accounting and finance teams since 2006 and comes most recently from the American Pharmacists Association (APhA), where he served as Senior Director, Financial Reporting and Compliance. 
NHPCO CFO, Cathy Gibney, CPA, said, "Christopher has exactly the kind of experience we were looking for in this position. With his background in both the association and business worlds, he is going to help ensure that NHPCO continues to provide world-class financial support services for our members and partners." 
Arnold commented, "I look forward to working with the NHPCO staff to continue improving our finance systems to ensure smooth operations. NHPCO members provide essential care to patients and families across the country. I am excited to join the organization that supports them in that mission."  
During his time at APhA he consolidated the organizations banking service providers and implemented a paperless payables system. Both projects reduced costs and generated efficiencies in processing. Prior to joining APhA, Arnold served the Association of Clinical Research Professionals (ACRP) for ten years, first as Controller and later as Director, Finance and Administration. During that time Arnold was responsible for the office relocation project that entailed site selection, office build out, implementation of new information technology and communication vendors and the move and set up of the new office. The project was completed on time and under budget. From 1996 to 2006, he served in various business analysis, management, and finance roles at companies including KMPG, Nextel Communications, and Beers & Cutler. Arnold earned a Bachelor of Science degree in accounting from Virginia Tech. He resides in Falls Church Virginia with his wife Christie and dog Kona. He enjoys spending time outdoors running, biking, and taking backpacking trips with friends. 
### 
Press Contact:
Madison Summers
NHPCO Communications
Ph: 571-412-3973