Heart Failure and Palliative Care: When to Engage
Description
Join NHPCO and the American Heart Association® for a presentation with cardiologist Peter Morcos, MD, and palliative care physician George Delgado, MD to learn and understand when palliative care is appropriate for heart failure patients.
The physicians will share how they collaborate on heart failure care including referring patients, best practices, and lessons learned. Live Q&A will be moderated by Rory Farrand.
Learning Outcomes:
At the completion of this webinar, participants will be able to:
Explain the value of a referring collaboration between a cardiologist and palliative care physician for heart failure patients
Determine the appropriate time to integrate palliative care into heart failure management
Summarize the benefits of early palliative care and how to apply to heart failure patients
Utilize the current evidence base for palliative care for patients with heart failure
Faculty: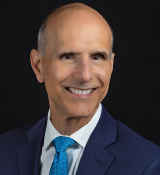 George Delgado, MD, HMDC
Dr. George Delgado is the Chief Medical Officer at The Elizabeth Hospice, where he oversees all medical aspects of hospice and palliative care services. He is the president of Elizabeth Supportive Medical Specialists, a medical group dedicated to bringing compassionate, personalized medical care to patients with chronic, serious medical conditions, and support to their families. Dr. Delgado received his medical degree from the University of California, Davis School of Medicine, and completed his residency at Santa Monica Hospital/UCLA. He is board certified in family medicine and hospice and palliative medicine.
Rory Farrand, MA, MS, MSN, APRN-BC
Rory Farrand serves as the Vice President of Palliative and Advanced Care for NHPCO and is a seasoned healthcare executive who brings more than 20 years of proven health care successes in focus areas including palliative care, geriatric primary and acute care, geriatric psychiatry, assisted living management, Alzheimer's/dementia care, clinical health care management and operations, clinical research, innovative program development, nursing, and training.
Prior to NHPCO, Ms. Farrand supported the palliative care initiatives of VITAS Healthcare, as the National Director of VITAS Palliative Care. In that role, she worked to improve and expand palliative care for VITAS patients, families, and health care providers.
By background and training, Ms. Farrand is a board-certified adult nurse practitioner with an MSN focused on geriatric and adult health. Additionally, she holds an advanced practice certificate in palliative care, a BA in Psychology, an MS in Behavioral Neuroscience, and an MA in Art Therapy. She has worked as both a Nurse Practitioner and an Art Therapist. She is active in multiple professional organizations, including HPNA (Hospice and Palliative Nurses Association) and the Gerontological Advanced Practice Nurses Association. Rory enjoys baking, yoga, reading, and spending time with her sons.
Peter Morcos, MD
Dr. Morcos practices general cardiology treating a broad scope of cardiovascular disease including coronary artery disease, valvular heart disease, arrhythmia, and congestive heart failure. He has additional interests in non-invasive cardiac imaging, cholesterol treatment and management of rare cardiomyopathies. He is the former Chief of Cardiology at Scripps Mercy Hospital San Diego, CA.